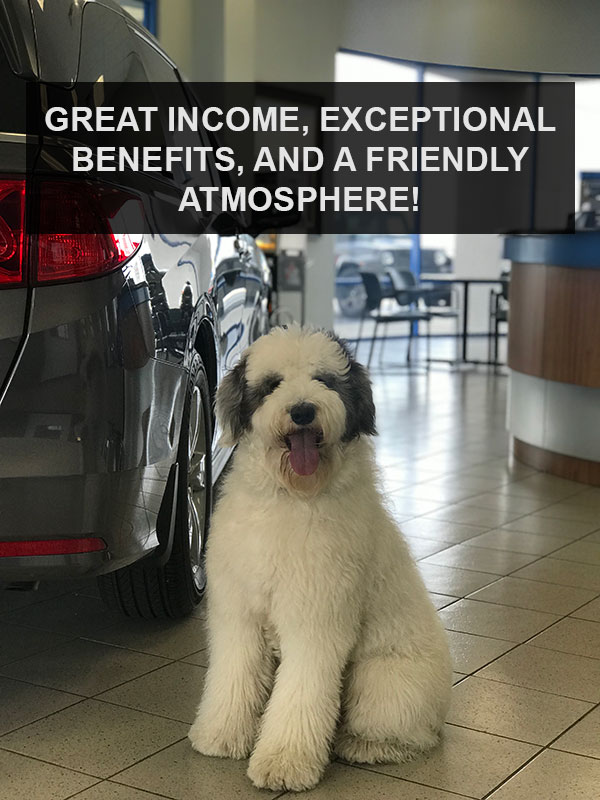 Get Hired at Bob Brady Honda
If you're seeking a challenging and rewarding new career path, the automotive industry is a great place to look. And Bob Brady Honda is a great place to work.
We are a thriving auto dealership in the heart of Decatur, IL, and we are always on the lookout for talented individuals to join our team. Whether you're an auto industry veteran or a newcomer with a drive to learn and grow, Bob Brady Honda wants you on our side.
Our work environment is positive and encouraging, and we understand that our success hinges on our employees. To that end, we provide thorough training and growth opportunities as well as competitive pay to ensure that every Bob Brady Honda team member is satisfied, fulfilled, and well-compensated for the efforts they expend to ensure our success.
Car Dealership Job Opportunities in
Decatur

,

IL

Are you great with people and want to use your customer service skills to assist our valued customers? A spot on our sales team might be the perfect fit! Are you a talented number cruncher looking to help our valued customers get great deals on their dream cars? Consider a position with our finance team! Maybe you're a skilled technician who would be a strong asset to our service center.

No matter what your skillset, there's no better place to put it to good use than at Bob Brady Honda. Check out the positions we currently have available – as a constantly growing business, our needs for great employees to add to our dealership are also constantly growing. So even if you don't see a position right now that's exactly right for you, odds are there will be one soon. Go ahead and send us your information so we'll know to contact you when something just right opens up!
Come Work with Bob Brady Honda
The automotive industry has a worldwide reach, remaining strong and stable even in times of economic uncertainty. That kind of stability is one of the main reasons that jobs in the auto industry are so appealing. Take advantage of opportunity when it comes knocking. As a part of the Bob Brady Honda team, you will enjoy benefits that go beyond just a good salary – you'll be embarking on a rewarding career that can improve every aspect of your life.
The Internet Coordinator assists the online sales conducted through our website. The internetcoordinator is primarily responsible for establishing contact with potential customers and set appointments for customers to meet with sales consultants.
Job Description
Answer all incoming calls and chat/call requests within 10 seconds
Respond to incoming emails with an attempted phone call in 5 minutes or less, followed up with a series of outgoing emails that end in a price quote within 10 minutes.
Convert every sales opportunity to a confirmed appointment or turn them to a Sales Consultant
Actually speak with at least 75% of all assigned leads
Set confirmed appointments with at least 60% of the leads you make contact with
Maintain a 60% show rate with those appointments
Record every contact you have with customers, regardless of source or type, in CRM
Other duties as assigned
Performance Measurements/Expectations
Thoroughness and timeliness in the completion of tasks
Communication skills
Time Management
Typing
Mathematics
Basic Computer Skills
Hiring Requirements
High school graduate or equivalent
18 years or older
Possess an acceptable driving record and valid driver's license in state of residence
A criminal history background check will be conducted prior to beginning employment