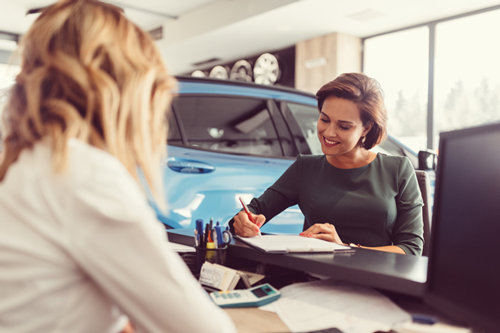 Auto Lease Offers in Decatur, IL
If you've never leased a vehicle before, it may be time to consider this viable alternative to financing! There are many advantages to a lease agreement that you might want to ponder before committing to purchasing your next vehicle outright or with an auto loan.
At Bob Brady Honda, we're here to help you make the smartest choice for your unique set of needs and preferences. And whether you end up opting for a lease agreement or taking advantage of a great auto loan, you're in for some incredible savings when you do business with our Decatur dealership.
We have a fantastic inventory of all the latest and greatest Honda models, all priced to sell and ready for you to claim your favorite. And they're all available for lease as well as purchase – so the choice is all yours! If you need a little help deciding whether leasing or buying is right for you, our friendly and helpful associates are standing by to offer all the information and insight you need.
For now, read up to get familiar with some of the key components of leasing a vehicle, and then see what we can do for you at Bob Brady Honda!
Leasing: The Basics
The biggest difference between leasing and buying is that with a lease, you're not paying toward ownership of the car, but rather for use of it during your lease term. With no need for down payments or sales tax, leasing is a simple and straightforward transaction that appeals to many vehicle shoppers because of its lower level of commitment – as well as the reasons below:
Lower monthly payments. Perhaps the biggest point in favor of leasing is that it often comes with significantly lower payments than what you would pay on an auto loan each month. With these exceptional savings, you might choose to spring for a higher trim level or premium features – or simply enjoy the savings as they stack up!
Timely trades. Because a lease term is generally fairly short in duration, you'll be able to trade up to a newer model or a different vehicle sooner than you probably would if you purchased the car. This is a perfect arrangement for drivers who like to have access to the latest tech and styles hot off the line.
Hassle-free exchanges.
When you own a vehicle and are ready to buy a new one, you'll have to figure out what to do with your current car – whether that's arranging for a private sale or getting an appraisal so you can use the value toward your new car purchase. With a lease, however, you can skip the hassle. Return your leased car to our dealership, find a new one, and you're ready to hit the road in no time at all!
Lease Your Dream Car from Bob Brady Honda
If you're still on the fence about whether to lease or purchase your new car, Bob Brady Honda's team of experts is happy to help. Contact us to go over your options and discuss a financing plan or lease arrangement that will work perfectly for your financial circumstances and preferences.
Whether you buy or lease, you're in for incredible savings when you shop the outstanding selection of new vehicles at Bob Brady Honda. Kick off your search now by browsing our online inventory, and then continue your simple and stress-free shopping experience with help from our tools, services, and dedicated sales and financing associates.